Smooth fit sponge
A special diagonal cut that swells with water and fits the face line! Prevents uneven coating and creates a thin, adherent, glossy skin finish.
Puffy with water, soft on the skin!
Extend the foundation thinly and cleanly to improve the adhesion to the skin. It's easy to hold and easy to use, and it's easier to get a glossy, transparent skin.
飛碟形狀特殊斜切設計,服貼臉部角度輪廓,
厚實密著手感絕佳,吸水膨脹加倍柔軟,
液狀霜狀粉狀底妝均適用,
不含乳膠,敏感肌適用,打造輕薄光澤底妝。
尺寸: W60 × D28 × H55mm(乾燥狀態)
How to use
Soak the sponge in water before using and squeeze it firmly.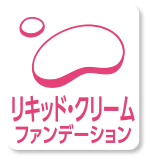 [Liquid cream foundation]
Apply the foundation on your forehead, nose, cheeks, etc. with your fingers, then use a sponge to gently apply it to your skin.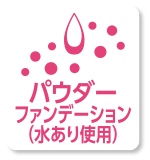 [Powder foundation (with water)]
Take an appropriate amount of foundation on the sponge and use it so that it slides on your skin. Do not use on powder foundation (without water).
● After use, please dry thoroughly before storing.
●As it has high water absorbency, please avoid using the liquid cream foundation directly on the sponge.
● Natural rubber is not used, so people with latex allergies can use it.
[Cleaning method]
● If the sponge becomes dirty, dilute the kitchen neutral detergent with warm water and wash it by hand. After rinsing thoroughly, drain it and shade it. ● When squeezing the sponge, please do not twist. Due to its characteristics, it may break if strong force is applied. ●If you add water, it will become larger, but when it dries it will return to its original size. ● When the texture of the sponge becomes rough, it is time to replace it.