---
---
Mappepe
Scalp cushion cleansing brush
Cushion is comfortable, and after washing your hair, it is refreshing and smooth ♪ From the roots, beautiful hair
The dirt and stickiness of the scalp, which is difficult to remove with just your fingertips, is firmly removed with two types of brush hair, large and small.It has a high cushioning property and reaches the scalp properly!4 large and small ventilation holes increase elasticity and relax the scalp with moderate stimulation. It has a shape that fits easily in the palm of your hand, and feels like you're fumbling.A plant-based ceramide blended from rice!Ceramide is a component added to cosmetics to protect the skin from dryness. In this product, the brush is mixed.Contains antibacterial agents!Suppresses bacterial growth on the brush surface. You can use it cleanly.
*There may be some black spots on the brush, but this is due to the blending ingredients and there is no problem with quality.
How to use
1

Before using the brush, lather it thoroughly with shampoo before use.

2

Hold the brush handle as if you wrap it in your palm.

3

Lightly press the brush part against the skin, and move it along the flow of hair so that the brush part shakes slightly.

Four

Apply the brush to the skin and press it firmly, then repeat.
"please note"
*Please note that hair may become entangled if you brush in a circle or brush strongly and strongly.
*Do not use when rinsing or after rinsing as the brush may slip and slip on your hair.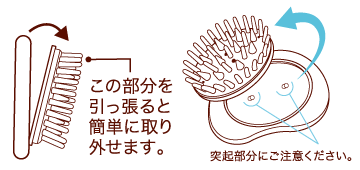 ---