---
---
Perfect for the first fragrance because it is a gentle fragrance.
Recommended for everyday use because of the smell that suits any scene.

● It is recommended to fragrance beginner.
Everyone will have a favorable impression because of fluffy gentle fragrance ●.
● such as schools and offices, is perfect for any time. 
Scent of soap ...
gentle fragrance charm specially the girl.
It will be wrapped in the scent of clean full of soap from the moment you Hitofuki.
Recipes ~ of ~ fragrance
♥ Top notes ♥
bergamot, lemon 
♥ Middle notes ♥
Rose Muguet
♥ last note ♥
musk
How to use
Gently spray on your skin such as wrists and neck streaks and let it blend in.
Notes on use
● scratches and swelling, eczema, etc., in an area of abnormal Please do not use if skin shows redness, itching or other allergy symptoms, please stop using the product immediately.
●. Redness, swelling, itching, irritation, color loss when an abnormality such as (such as white spots) and darkening appeared to discontinue use, it is recommended to consult our toll-free or doctor and skin. It may worsen the symptoms and continue to use them.
● When you put on your skin is exposed to direct sunlight, rarely or rash, please note that it may cause stains.
● When attached, such as a thin color of clothing, that it may rarely cause stains, please note.
● Please be sure to firmly tighten the cap after use.
● Extremely hot or cold places, in direct sunlight, please do not keep.
● Please keep out of reach of children.
● Because it is flammable, please pay attention to the fire.
香水肥皂溫和的香氣能激發出少女的魅力!
自然的清香在不知不覺中,提昇了妳純潔清新的女性特質。
這瓶柔和、雅緻、 輕佻的香水會是妳完美的第一瓶香水。
只是輕輕一噴,就將圍繞在人人喜歡的香氣中。
適合任何場合使用,不論在學校、辦公室或約會,是妳隨時最佳良伴!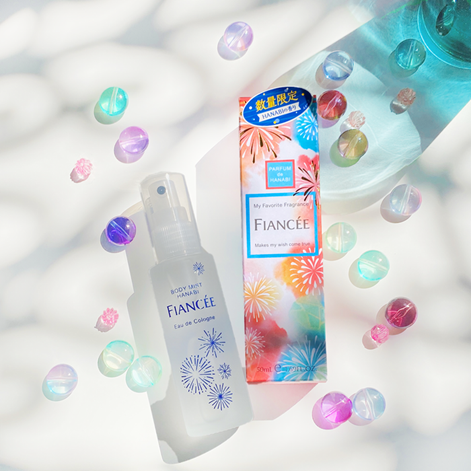 ---