---
---
A colorful and fresh scent that bursts like fireworks
[Limited quantity]
A scent of fresh cider and colorful fruits that expresses the fireworks that burst into the sky. A positive and clean scent that adds color to your casual everyday life. ● Fresh cider adds color to the juicy scent of pears and raspberries. Middle note muguet and jasmine bloom gorgeously, and the last has a gentle scent of amber.
How to use
Gently spray on your skin such as wrists and neck streaks and let it blend in.
Notes on use
● scratches and swelling, eczema, etc., in an area of abnormal Please do not use if skin shows redness, itching or other allergy symptoms, please stop using the product immediately.
●. Redness, swelling, itching, irritation, color loss when an abnormality such as (such as white spots) and darkening appeared to discontinue use, it is recommended to consult our toll-free or doctor and skin. It may worsen the symptoms and continue to use them.
● When you put on your skin is exposed to direct sunlight, rarely or rash, please note that it may cause stains.
● When attached, such as a thin color of clothing, that it may rarely cause stains, please note.
● Please be sure to firmly tighten the cap after use.
● Extremely hot or cold places, in direct sunlight, please do not keep.
● Please keep out of reach of children.
● Because it is flammable, please pay attention to the fire.
清新的蘋果酒和五顏六色的水果的香味,表現出在天空中綻放的煙花。
一種積極而乾淨的香味,為您的休閒日常生活增添色彩。
● 新鮮蘋果酒為梨子和覆盆子的多汁香味增添色彩。
中調為盛開的鈴蘭和茉莉花,最後是柔和的琥珀香味。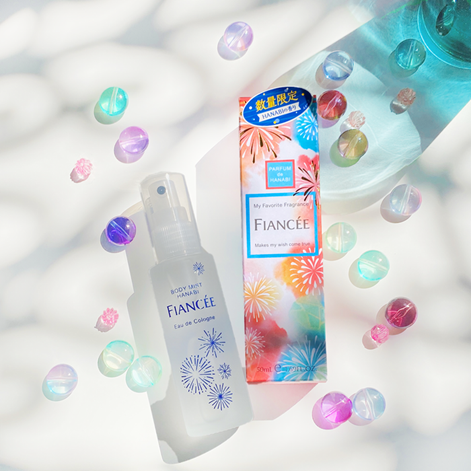 ---