---
---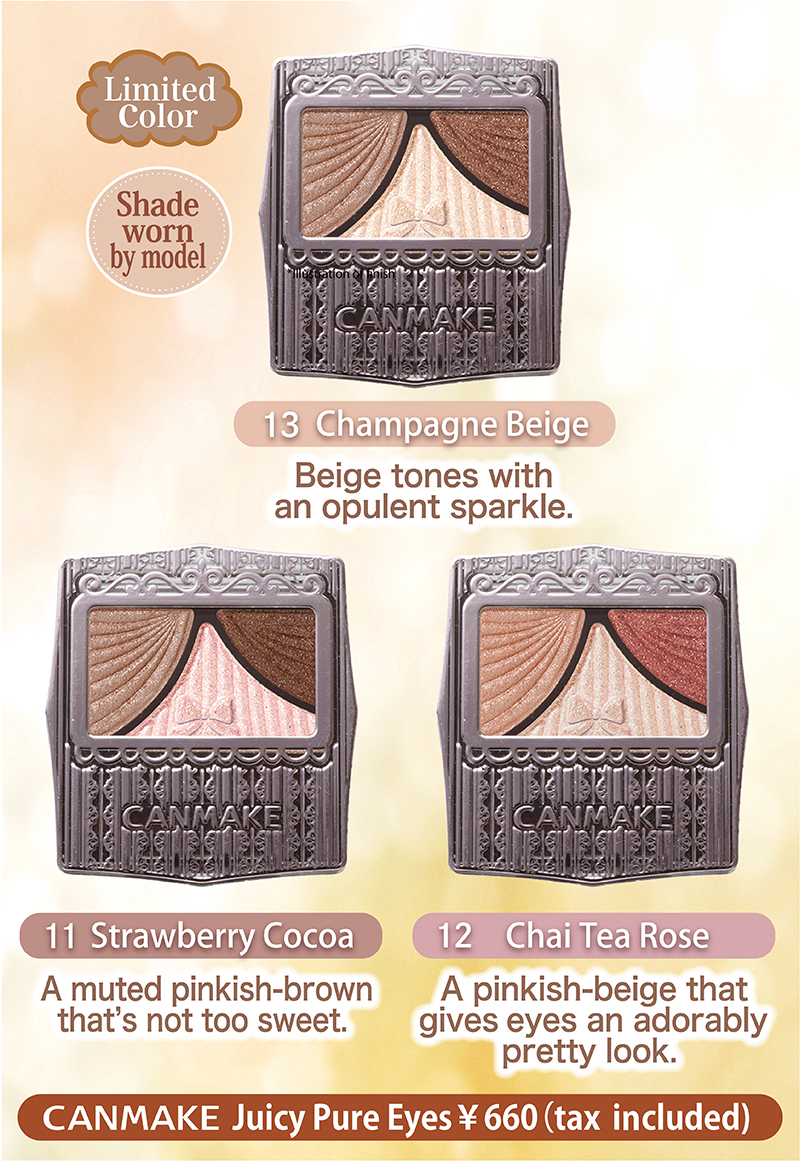 [11]Strawberry Cocoa
Beige tones with an opulent sparkle.
.
Featuring a top coat that offers juicier, longer-lasting eye color♥
Eyeshadow trios that provide natural definition.
Create captivatingly adorable eyelids with a juicy shimmer♥
Dewy powder clings to your skin
● Cushion powder helps colors glide gently over your skin.
● Fitting oil helps colors cling to your eyelids, without powder scatter!
The secret to the juicy look is the souffle, which boosts shimmer and staying power
● Apply as a top coat for lids that look lusciously succulent! For lids with an adorable wet-look sheen♥
● Oil-rich formula enhances translucence and maintains the dewy look of the dainty lame!
● Exquisitely soft, springy souffle formulation♥
晶瑩細緻粉末緊緊附著在肌膚上
● 彈性粉末有助於讓顏色輕巧地滑過肌膚。
● 眼影含有特別保濕油成分,讓眼影更加顯色且不易掉粉。
不易掉落,讓眼妝更為持久顯色
● 舒芙蕾眼影質地,防止粉末四散。
● 半透明的百搭咖啡色和肌膚做完美的搭配。
COLOR OPTION :

[01] Classic Pink-Brown
A sweet, adorable pinkish-brown.

[06]Baby Apricot Pink
A natural, sophisticated coral pink that's easy to use.

[07]Fruity Wine
A maroon-toned pink trio to highlight your sophisticated femininity.

[10]Night Lavender
Look intelligent, sophisticated, and feminine with this purple-toned trio.

[11]Strawberry Cocoa
A muted pinkish-brown that's not too sweet.

[12]Chai Tea Rose NewColors
A pinkish-beige that gives eyes an adorably pretty look.

[13]Champagne Beige LimitedColors
Beige tones with an opulent sparkle.
---